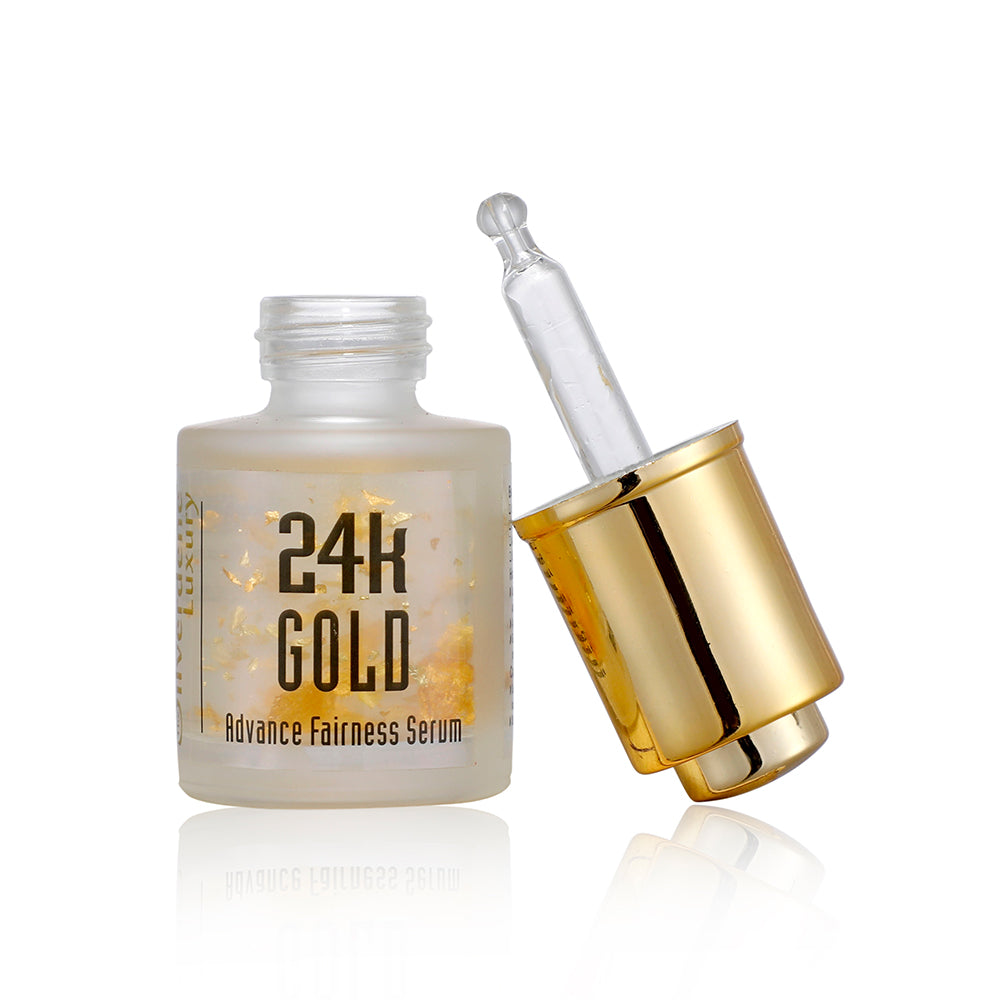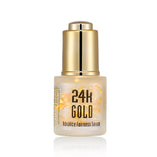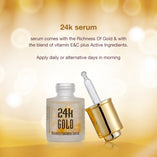 24K Gold Fairness Face Serum
Save Rs. 289.90 (10%) off
inclusive of all taxes
Tax included.
Shipping
calculated at checkout.
100% Genuine products
Paraben Free
Sulphate Free
Good Quality
Description
Things to Know
Benefits
How to use?
Ingredients
FAQs
About Product
Description
Smile with the reflection of the glow.
A lightweight, water-based serum, the 24k Gold Serum helps to restore dull skin's elasticity for firmer, youthful-looking skin. The serum is formulated with real 24k gold flakes to fight fine lines and wrinkles and leave your skin moisturized and glowing.

Is this for me?
For all skin type

Form & Texture?
Water-based & non-sticky

How It Feels?
Lightweight serum, refreshing &luxurious.
Things to Know
It is made with the red alga Palmaria palmata, that efficiently controls the photoinduced pigmentation: the skin is uniform; the complexion is luminous and the pigment spots are attenuated.
Gold advance Fairness serum comes with the Richness of Gold & with a blend of vitamin E&C plus Active Ingredients.
Gold can activate the basal cells of the skin, which increases the elasticity of the skin. It thus reduces wrinkles, fine lines, blemishes, and marks on the skin, and will make you look younger.
The ions present in gold help in stimulating the cells, nerves, and veins in your body. This leads to improved blood circulation. This will increase the metabolism of skin cells and secretion of the waste. Gold can help to stimulate the cells and have a healthy skin.
Dryness of skin can lead to its premature aging. Use of gold can reduce the dryness of skin and helps in increasing the metabolic rate. This would prevent the skin from premature aging.
Collagen is naturally produced in your body which keeps the body flexible. It is responsible for giving smooth skin and shining hair. The collagen level in the body starts depleting from the age of 25 and this is when you notice the changes on your skin. Skin care with gold can slow down the depletion of collagen level in your skin cells.
We all are very concerned for our skin getting tanned under the sun. Production of melanin or black pigment in the skin is responsible for tanning of the skin when exposed to sunlight. The production of melanin in the body can be reduced with the use of gold.
Gold is said to have anti-bacterial and anti-inflammation properties that help oxygen to enter into the skin for renewal of the cells. This helps in treating ulcer and other inflammatory disorders of the skin. It is also known to rejuvenate your skin.
Gold helps improve blood circulation; hence, it helps hydrate and maintain the skin's moisture level. The small particles of gold get absorbed into the skin imparting a rich glow. This makes the skin healthy, fresh and radiant.
Benefits
Benefits of applying 24 karat gold serum
Sun damage
Collagen booster
Anti-ageing
Stimulates skin cells
Treats Inflammation
The ingredients present in the serum will lighten your skin tone to a considerable extent. The effects will be visible on the regular application of this serum. You will easily eliminate dark tans, discolorations, uneven tones, and pigmentation on your facial skin.
A busy metro life can make your skin look dull and pigmented due to prolonged exposure to harmful sun rays. Using this 24K gold collagen serum will enable you to tackle skin pigmentation to a huge extent. There is no need to use artificial sun-block creams when you can easily use this natural method of de-pigmenting your skin for a lighter tone.
Skin brightening and whitening
On regular use, your skin will become lighter-toned to a considerable extent. This serum has the unique capabilities of de-tanning and de-pigmenting your skin without any adverse effects.
Our 24K serum formula is ideal for removing spots and blemishes. Gold is a natural healer and boosts the formation of new cells and the removal of unnatural depositions.
Get the best 24K gold face serum at the best price
Why wait then? Get the best 24K gold serum price from us and give your skin the best skin care it needs. Find more exclusive skin care products online at the best price and make us your skincare brand.
How to use?
How to use 24K gold face serum?
Wash and pat skin dry.
If you are using a toner, apply before the serum.
Take a small amount of serum on your fingertip and avoid touching the dropper to avoid contamination and gently apply to your face.
Allow the serum to dry and follow with a moisturizer.
Here is the list of steps to follow and apply the gold serum to your face.
Wash and cleanse your skin with our

tomato face wash

.

Pat your skin dry with a soft towel.

If your daily regime has a skin toner, apply it and let it settle down before you apply the serum.

Once done, proceed to take a dab of serum on your fingertip. Use the dropper provided with the package. Do not touch the tip of the dropper to avoid contamination.

Gently apply the serum to your face using your fingertips. Do not rub it. Simply spread it all over your facial skin.

Let the serum settle down and dry. Give it some time to get absorbed.

Apply our

skin regeneration cream

or a moisturizer to trap the ingredients and moisture deep within the skin tissues.
Do this twice a week regularly and find out the excellent outcomes.
Ingredients
This remarkable serum contains the following ingredients extracted from natural sources to ensure the best possible outcomes.
Natural extracts of palmaria palmitate, a red algal species

24K gold flakes

Vitamin C and E
These are the prime ingredients that make the formulation of this gold serum unique.
FAQs
 1. How can I get rid of dirt before applying gold serum?
Ans: You can use our Kesar face wash and get rid of the dirt deposited on your skin.
2. Can I apply regeneration cream after applying a gold serum?
Ans: Yes. You can apply a skin regeneration cream for hydration. In fact, it is recommended to use a moisturizer after you apply a gold serum.
3. Is serum really good for skin whitening?
Ans: The purpose of brightening serums is to generate an even skin tone by minimizing hyperactive regions, not to lighten the overall skin tone.
4. Will I receive long-term results applying serum?
Ans: That completely depends on how well you apply and for how long. It is best to practice the way it is prescribed on the packet.
About Product
Get fairer with Silverdene Luxury's exclusive 24K gold fairness face serum
Getting fairer has never been easier. Welcome to the world of fairness and rejuvenating skincare from Silverdene Luxury. We have the best 24K Gold fairness serum for your facial skin regime to increase your fairness.
Over centuries, gold has been the prime focus for developing exceptional facial skincare products. It has been used in the historical eras for never-ending beauty. We have successfully formulated the right 24K gold face serum for your facial rejuvenation. This serum contains the ideal set of natural ingredients, including gold, to nourish your facial skin and give you a youthful look.