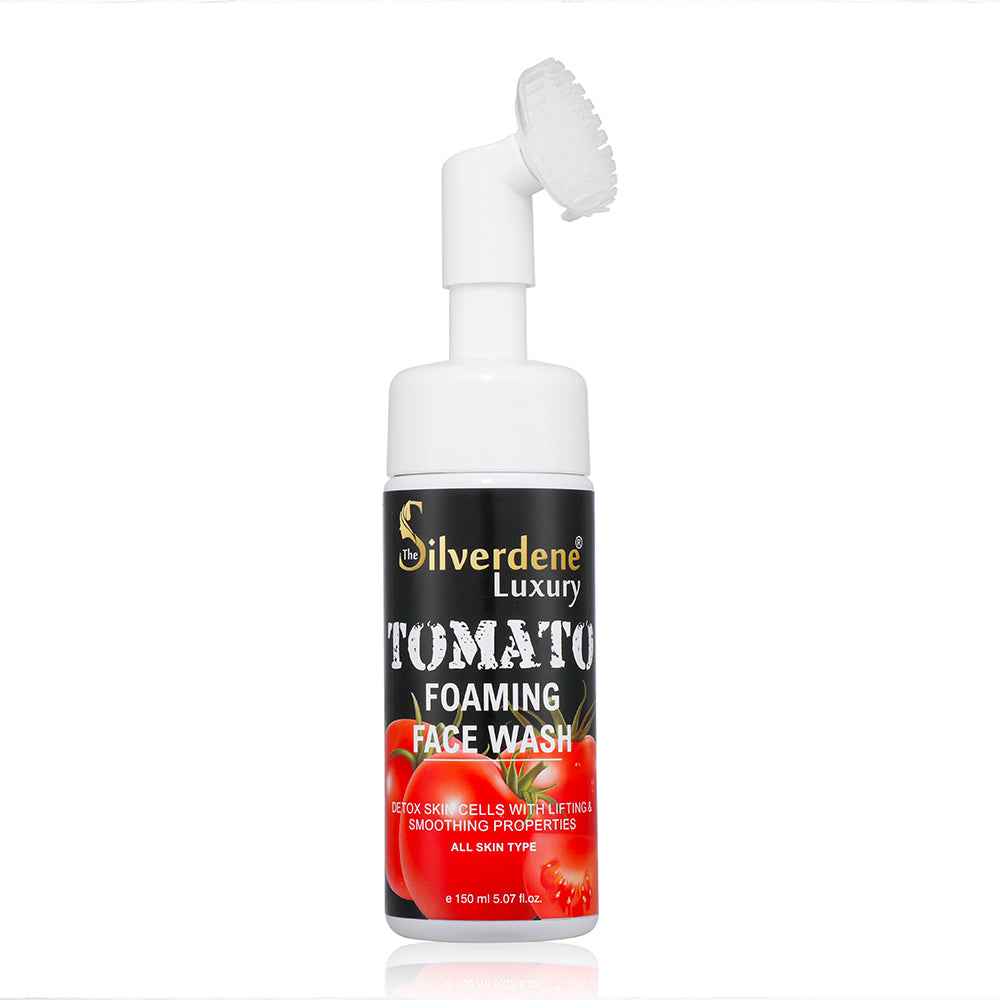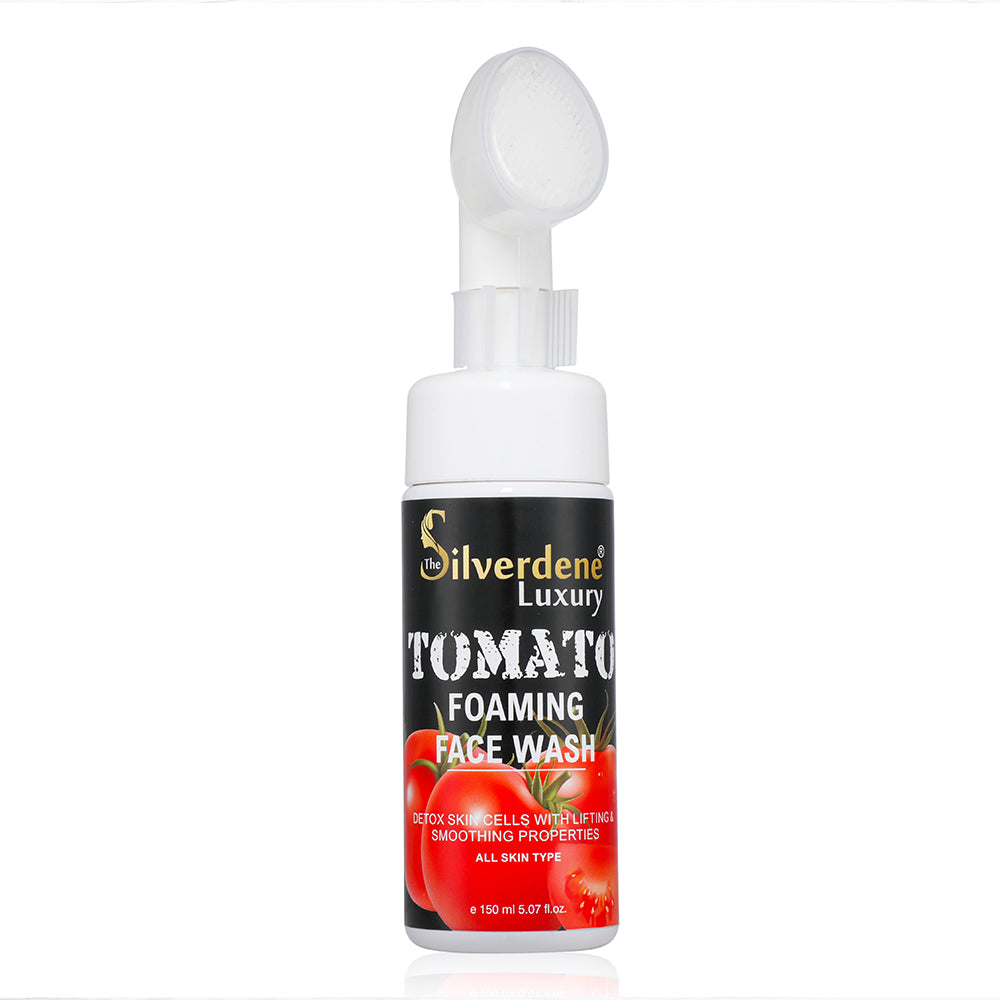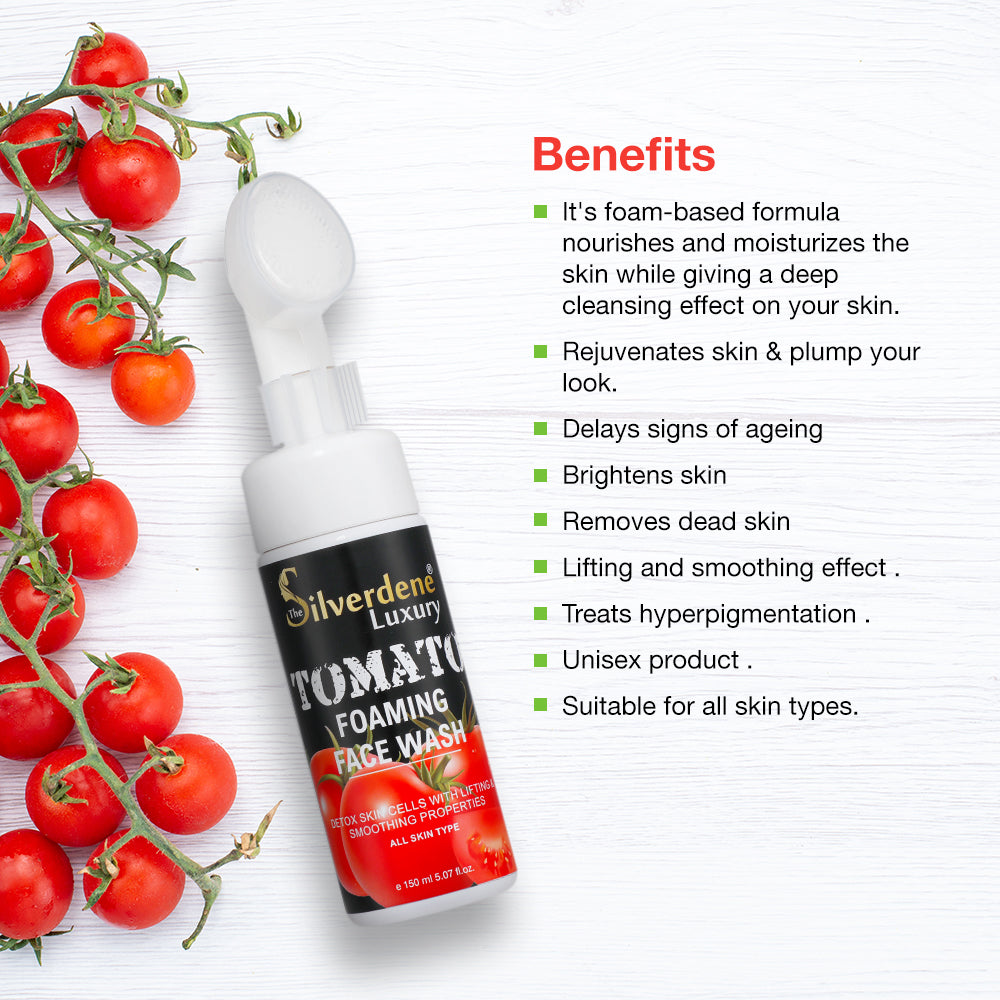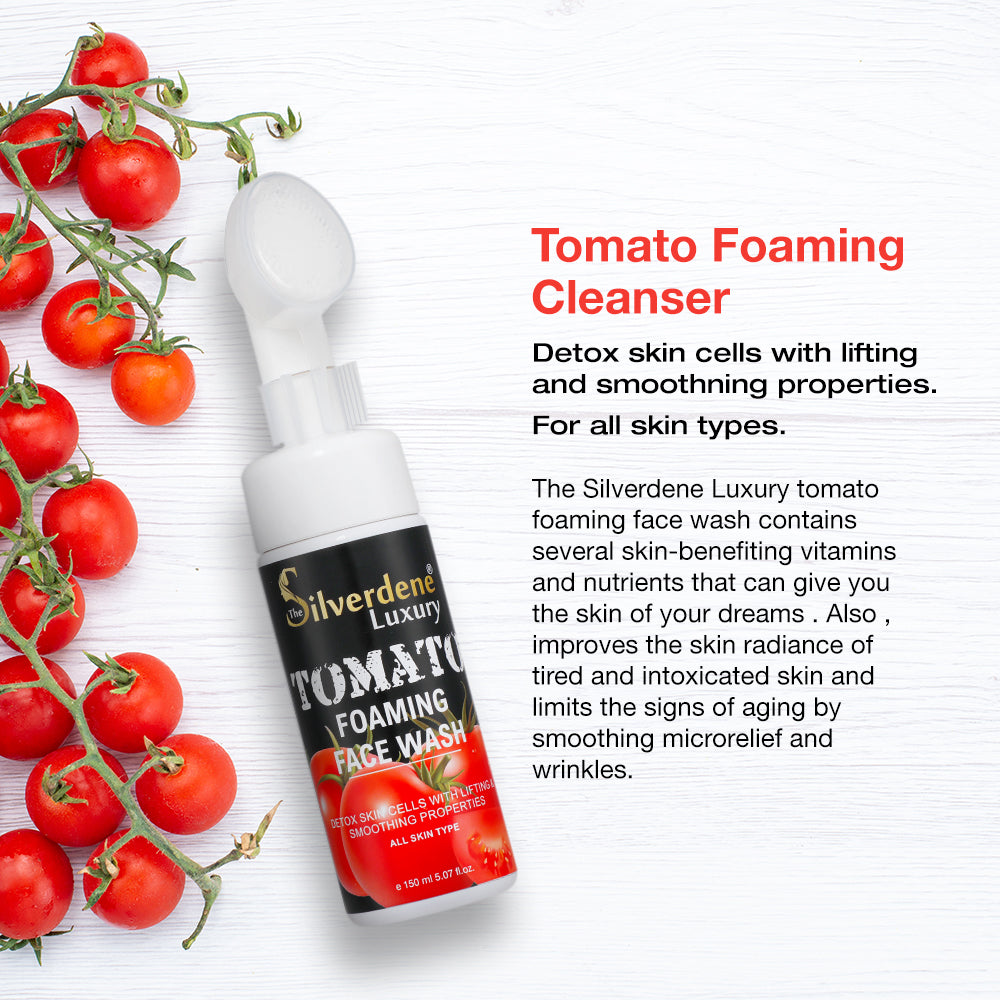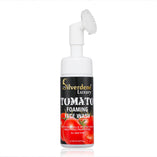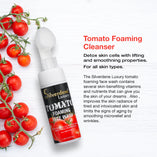 Tomato Foaming Face Wash
Save Rs. 149.90 (10%) off
inclusive of all taxes
🏷️ Extra 15% Off Using Code GET15
Tax included.
Shipping
calculated at checkout.
100% Genuine products
Paraben Free
Sulphate Free
Good Quality
Description
Benefits
How To Use?
FAQs
About Product
Description
The Silverdene Luxury tomato foaming face wash contains several skin-benefiting vitamins and nutrients that can give you the skin of your dreams. Also , improves the skin radiance of tired and intoxicated skin and limits the signs of aging by smoothing microrelief and wrinkles.

Detox skin cells with lifting and smoothning properties.
It's foam-based formula nourishes and moisturizes the skin while giving a deep cleansing effect on your skin.
Rejuvenates skin & plump your look.
Benefits
Benefits of kesar facewash
- Delays signs of ageing
- Brightens skin
- Removes dead skin
- Lifting and smoothing effect.
- Treats hyperpigmentation.
- Unisex product.
- Suitable for all skin types.
Our tomato face wash carries an extract of potatoes and is completely paraben and sulfate-free. 
How can our Tomato Foam Cleansing help your skin
?
Our Tomato Face Wash does not limit washing away dust but also moisturizes your skin, giving a soft and glowing skin. It brightens the skin during deep washing. Tomato extracts help to keep your skin tight and toned by reducing oiliness. Applying our tomato facial cleanser will not dry your skin; it will maintain it smooth and hydrated after each use. Let us check some more benefits of our skin cream:
Get Rid of Dead Skin
Since we live in a polluted environment, our skin collects a lot of dirt and oil every time we step outside, especially in a city. The dirt clogs the pores and causes your skin to appear uneven. Once this happens, it becomes difficult to get over it. This is when you need a natural extract cleanser. Tomatoes are high in enzymes, making them excellent exfoliator for removing dead skin cells. Just like the Vitamin C cream for dry skin, if you apply our tomato face wash, you don't have to worry about your sensitive skin.
No More Oiliness
Eliminating oiliness is the biggest benefit of applying this tomato cleanser. It is difficult to live with if you carry oily or acne-prone skin due to excessive oil production. Greasy skin is unsightly and detrimental to your skin's general health. Because of the grease, even your makeup does not stay in place. Tomatoes are excellent at combating this and reducing the overall oily skin. Applying our tomato-extracted cleanser will certainly help you to overcome oily skin.
No More Acne
Acne is a very prevalent skin disorder that affects people of all ages. It is commonly caused by dirt or bacteria caught in the skin or oil trapped in the pores. It may aggravate your skin's condition even further if you are prone to popping your pimples. Our skin regeneration cream and tomato foam cleansing product having tomato extract carries vitamins A, C, and K, as well as acidic characteristics that assist your skin in maintaining a correct pH level and offer deep cleansing properties.
How To Use?
How to use our cleanser?
Applying a cleanser is quite easy. Moisten your face, and then squeeze out the cleanser in a small amount. Start massaging gently on the face and neck. Once done, rinse your face.
Buy the best tomato foam cleansing from silverdene luxury
If you are looking for the best quality and result-oriented tomato face wash, then Silverdene Luxury is the product to go with. Other than this, we have a range of face skin-related products, including:
FAQs
1. Is it good to rub tomatoes on your face?
Ans: Since tomato contains astringent characteristics, rubbing it over the face will assist with various skin problems. They are safe to use and have a gentle nature. 
2. What does tomato do to our face?
Ans: It contains a high concentration of antioxidants and vitamin C, and it can be used for face whitening because it acts as a natural bleaching agent. Applying tomato to the face brightens and radiates the skin while dullness and dark spots.
3. How often can I apply this foam cleanser?
Ans: You can apply the cleanser twice a day.
4. Will the cleanser help in overcoming an oily face?
Ans: Yes, regularly applying the cleanser will help overcome the oily face.
About Product
Get the Benefit of Glowing Skin with Tomato Face Wash Cleaner from Silverdene Luxury
Tomatoes are an essential element in cooking; they are a delicious and necessary addition to various meals from around the world. Although they carry huge importance in the kitchen, they also offer assistance in skin care. Applying tomatoes to your skin may sound strange at first, but wait till you learn its benefits on your skin. This luscious fruit is loaded with vitamins and nutrients that are so beneficial to the skin of your face that you'll be sorry you didn't use it sooner. The best thing is that it is readily available, and there is no harm to your skin. They are also used as ingredients in face wash cleansers. Silverdene Luxury also offers tomato face wash; the tomato facial cleanser helps clean up your face thoroughly from pores and other issues.  
The tomato face foaming cleanser is perfect for dry and oily skin. Moreover, it helps in detoxicating skin cells, helping smooth your skin's outer surface.