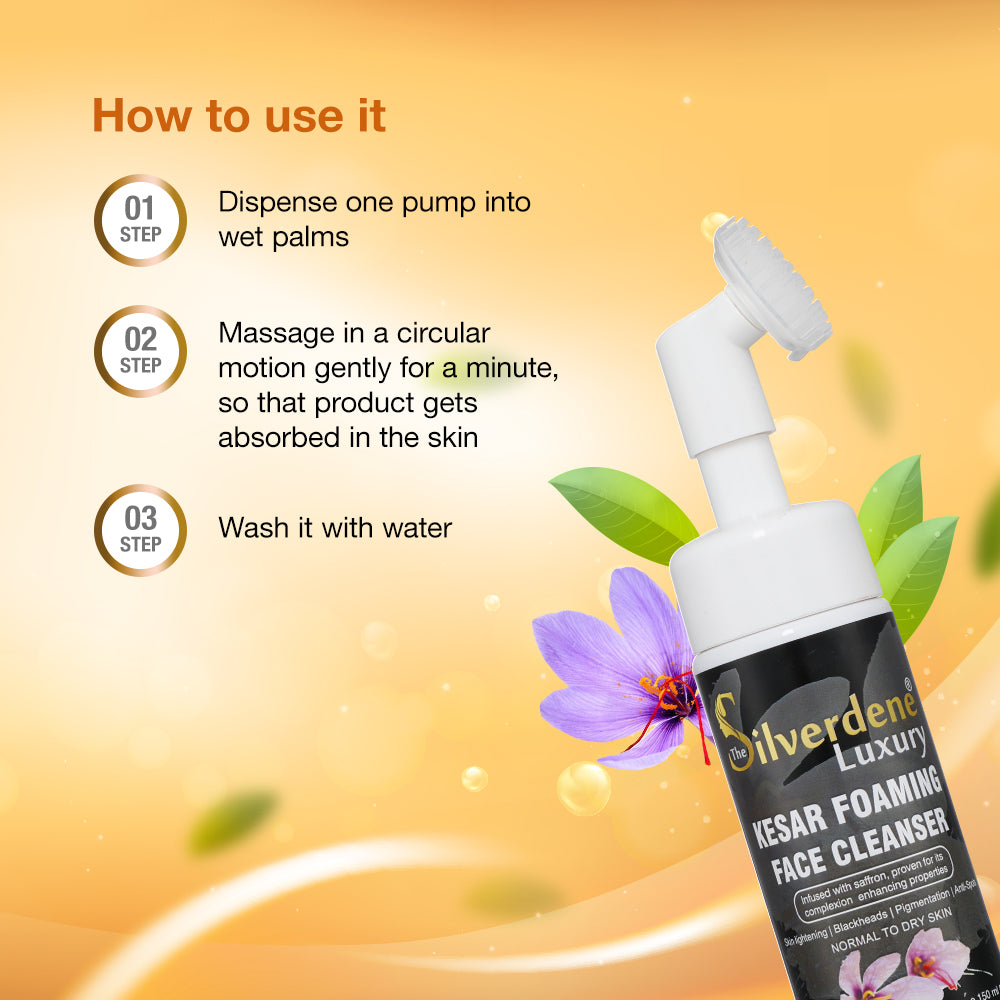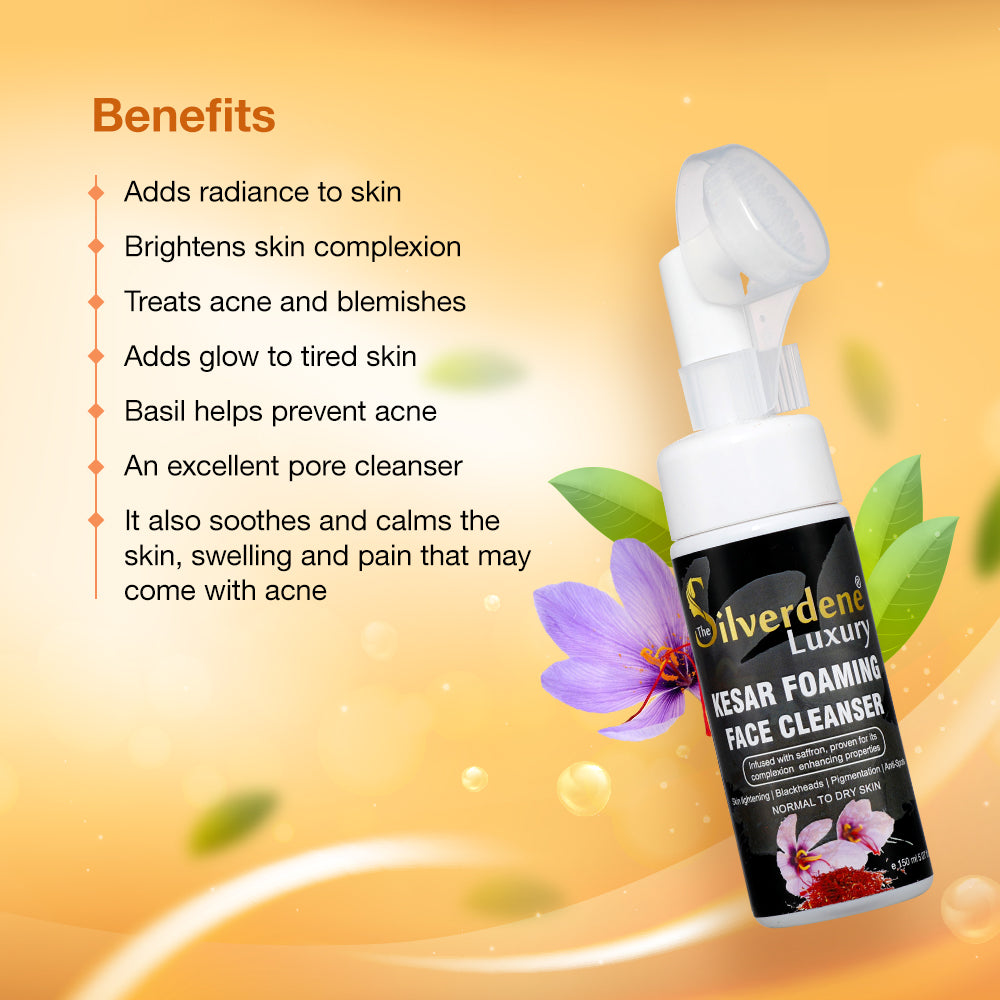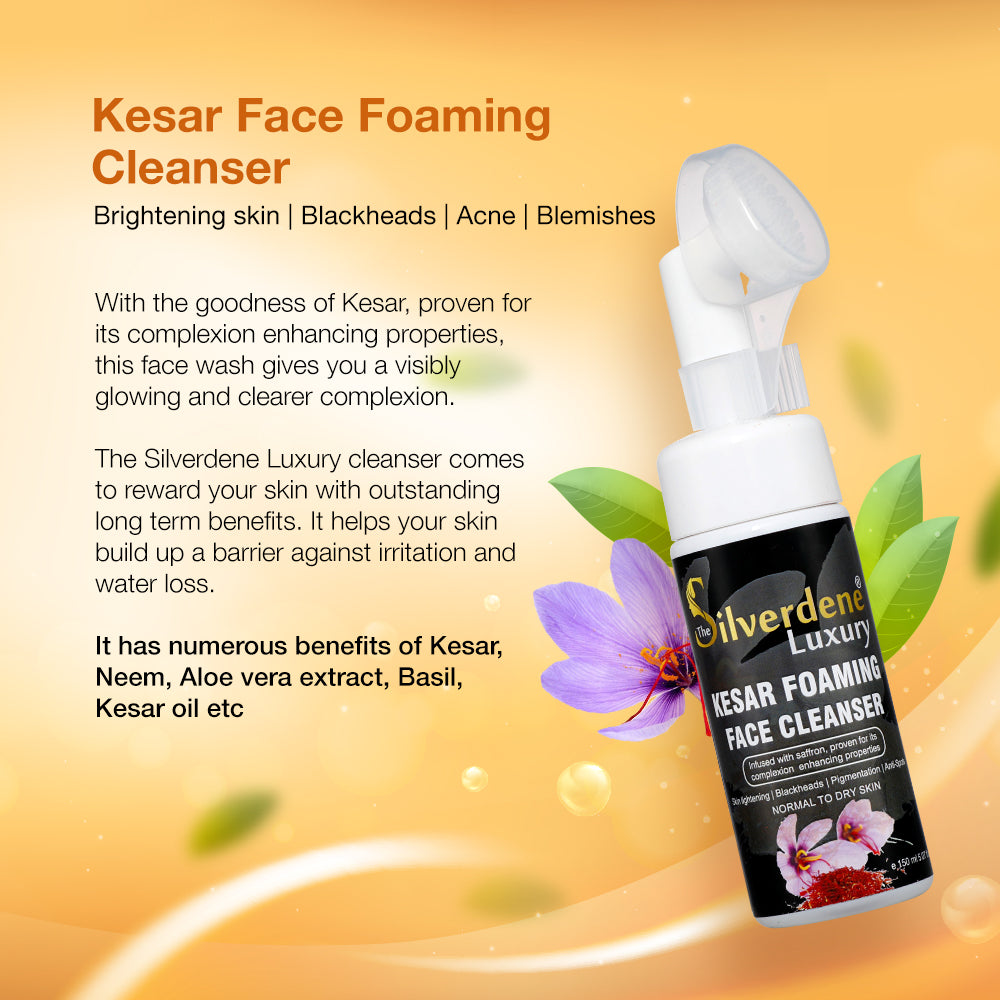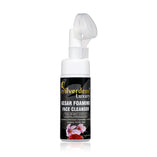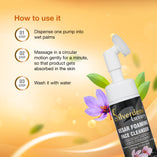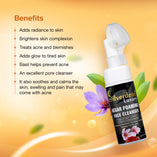 Kesar Foaming Face Cleanser
Save Rs. 198.00 (10%) off
inclusive of all taxes
🏷️ Extra 15% Off Using Code GET15
Tax included.
Shipping
calculated at checkout.
100% Genuine products
Paraben Free
Sulphate Free
Good Quality
Description
Ingredient
Benefits
How to use it
FAQS
About Product
Description
Kesar foaming face cleanser
Brightening skin | Blackheads | Acne | Blemishes

With the goodness of Kesar, proven for its complexion enhancing properties, this face wash gives you a visibly glowing and clearer complexion.

The Silverdene Luxury cleanser comes to reward your skin with outstanding long term benefits. It helps your skin build up a barrier against irritation and water loss.
Ingredient
It has numerous benefits of Kesar, Neem, Aloe Vera extract, Basil, Kesar oil etc. 
Benefits
Benefits of kesar face foaming cleanser
✅Adds radiance to skin
✅Brightens skin complexion
✅Treats acne and blemishes
✅Adds glow to tired skin
✅Basil helps prevent acne.
✅An excellent pore cleanser.
✅It also soothes and calms the skin, swelling and pain that may come with acne
✅Helps to Fight Acne
Saffron or Kesar is an excellent component for treating acne and outbreaks due to its antibacterial and anti-inflammatory properties. In addition, it contains therapeutic characteristics that can aid in treating acne-prone skin. Take 5-6 fresh basil leaves along with 10 strands of saffron and soak them in the clean water, form a paste out of them, and apply them on breakouts.
✅Helps to Reduce Pigmentation
Saffron is a natural substance that can help reduce pigmentation, brown spots, and other skin problems. First, soak a few saffron strands in clean water. Next, make a paste with this and 2 tbsp of turmeric powder. Use this to diminish pigmentation and dark spots on your face.
✅Healing Scars
Saffron has therapeutic characteristics that help speed up the skin's healing process. Applying saffron over wounds promotes speedier healing. In the long run, saffron can lighten the markings. 2 tsp saffron, soaked in water, crushed into a paste. Apply a few drops of coconut oil directly to the scars. Regular treatment will help heal wounds and fade markings.
✅Helps to Improve Complexion
Saffron is commonly used in skin-lightening cosmetics. It has had all the elements for skin nourishment since ancient times. Saffron helps with a healthy complexion if you utilize it regularly. First, crush a couple of strands of saffron. Then, make a paste using 2 tbsp sandalwood powder and rose water. Using Kesar facial cleanser and the cream can help improve the complexion.
How to use it
How to use our kesar face foaming cleanser
?
Step 1 – Dispense one pump into wet palms
Step 2 – Massage in a circular motion gently for a minute, so that product gets absorbed in the skin
Step 3 – Wash it with water
Step 4 -  Apply one pump to wet palms.
Step 5 -  Gently massage for a minute in a circular motion to allow the product to permeate into the skin. 
Step 6 - Rinse with water.
Like our other products like Tomato Face Wash, Acne Scar removal serum, Vitamin C cream for dry skin, and others, you can use our Kesar facial cleanser as per the given directions. 
Buy the best kesar facial cleanser from Silverdene Luxury
If you are looking forward to buying the top quality Kesar foam cleanser, Silverdene Luxury is the product to go with. Other than this, we have a range of skin-related products, including:
FAQS
1. Does the Kesar make your skin fair?
Ans: Yes, using saffron regularly improves the overall look of the skin tone and brightness. It can also assist in reducing tan and give skin a healthy glow. The combined effect will certainly make your skin look glowing, but it will not lighten your skin tone.
2. How is Kesar beneficial for the skin?
Ans: Saffron, also known as Kesar, is high in antibacterial and anti-inflammatory qualities. When used in cleansing and other products, these properties help fight off disease-causing microorganisms and remove dryness and soreness.
3. Will your product help in clearing pimples?
Ans: This natural, soap-free product for brightening and renewing your skin, leaving it with a healthy, natural glow. The packaging contains Kesar or saffron, a natural substance believed to lighten the complexion.
4. Will the product work on my dry skin?
Ans: Yes, it works perfectly on your dry skin. If you apply it as per the instruction, you will get the best result.
About Product
Get the benefits of kesar face wash from Silver Dene Luxury
It is frustrating to see how your facial skin looks, especially when it is dry or oily. Different treatments are available in the market, but not all offer you the best possible result. If you are looking for a natural and result-oriented product, then Silverdene Luxury's Kesar Face Wash is the product to look forward to. Turmeric, walnut, and kesar revitalize and cleanse your skin, revealing a natural sheen. Walnut and Indian Aloe soothe the skin and eliminate blackheads. In addition, turmeric and kesar improve the complexion and elasticity of your skin. With the goodness of Kesar, which has been shown to improve complexions, this Kesar facial cleanser gives you a dramatically radiant and clearer complexion. Our Kesar face foaming cleanser is a highly natural, ingredient-infused product that can help in getting the best result. 
Kesar, also known as saffron, carries vitamins and minerals that can help overcome face issues. Our Kesar facial cleanser is the best of all other products that can help you build the best skin surface and eliminate pores. The Silverdene Luxury cleanser is designed to provide long-term benefits to your skin. It aids in the formation of a skin barrier against irritation and water loss.