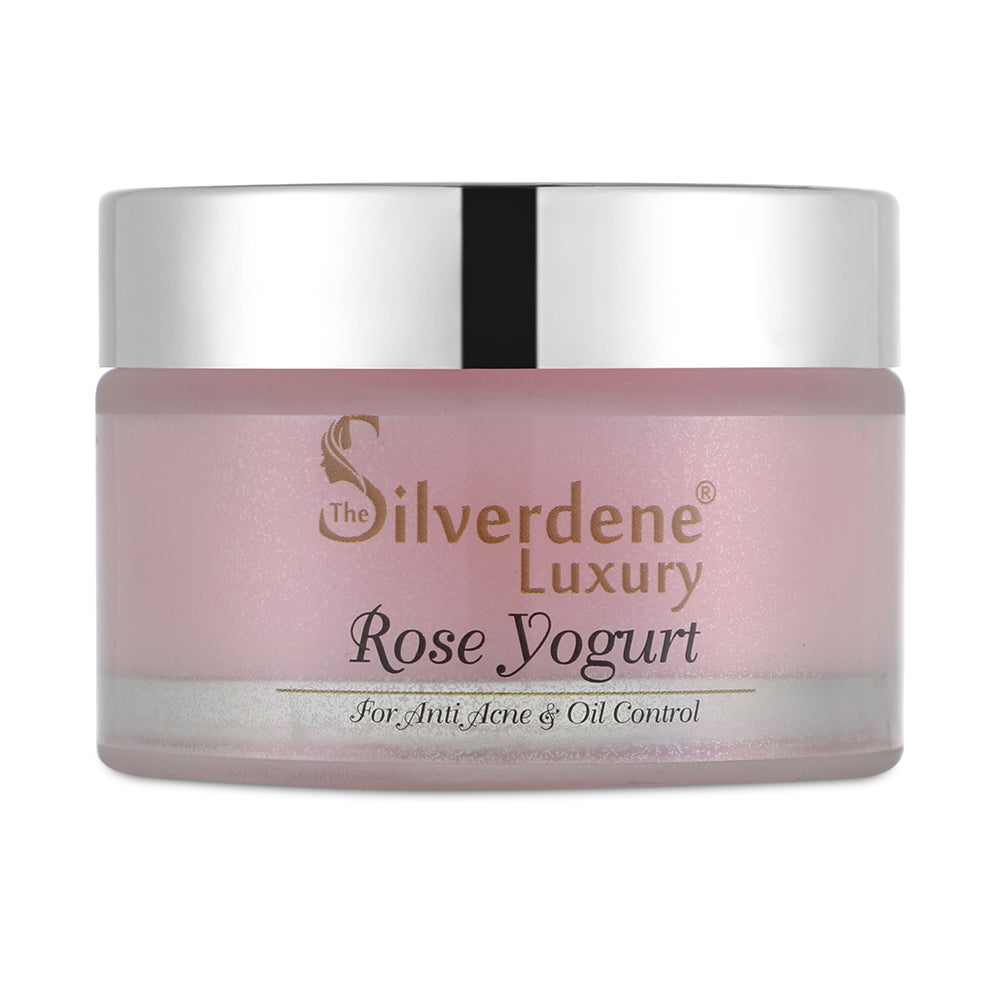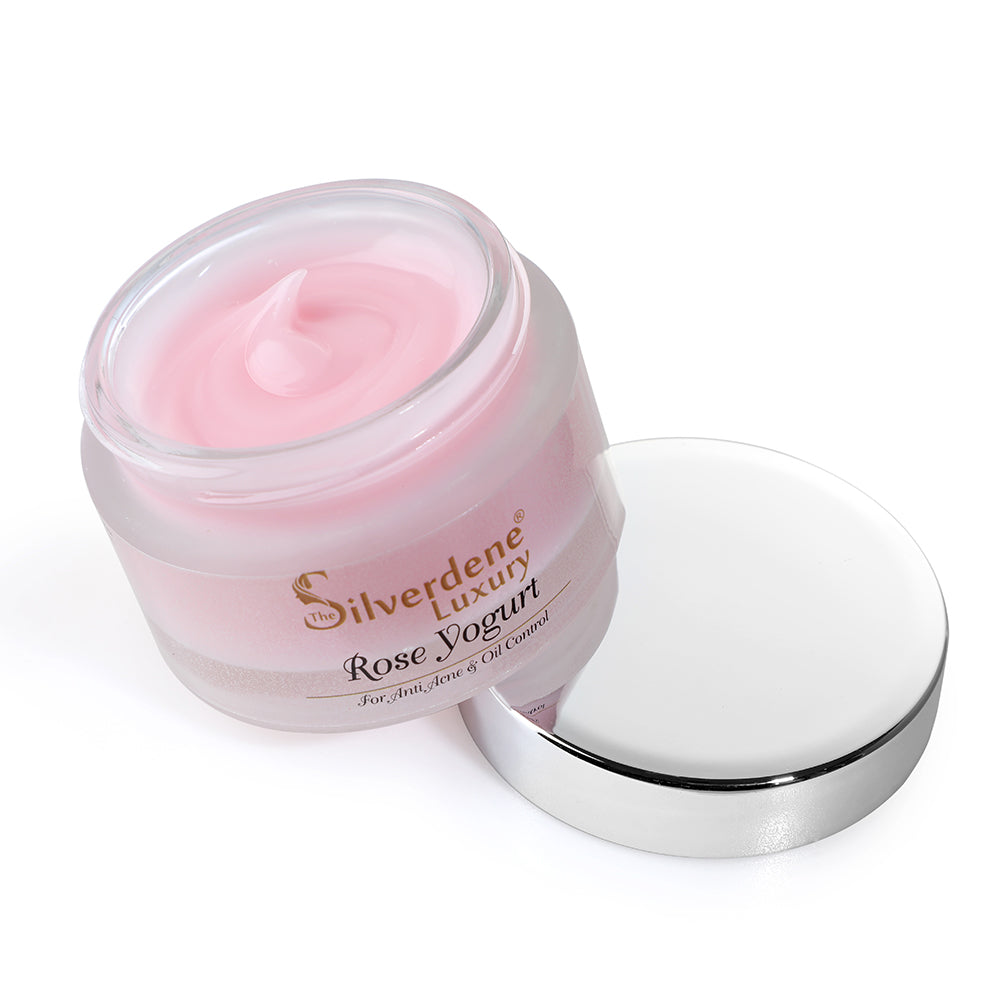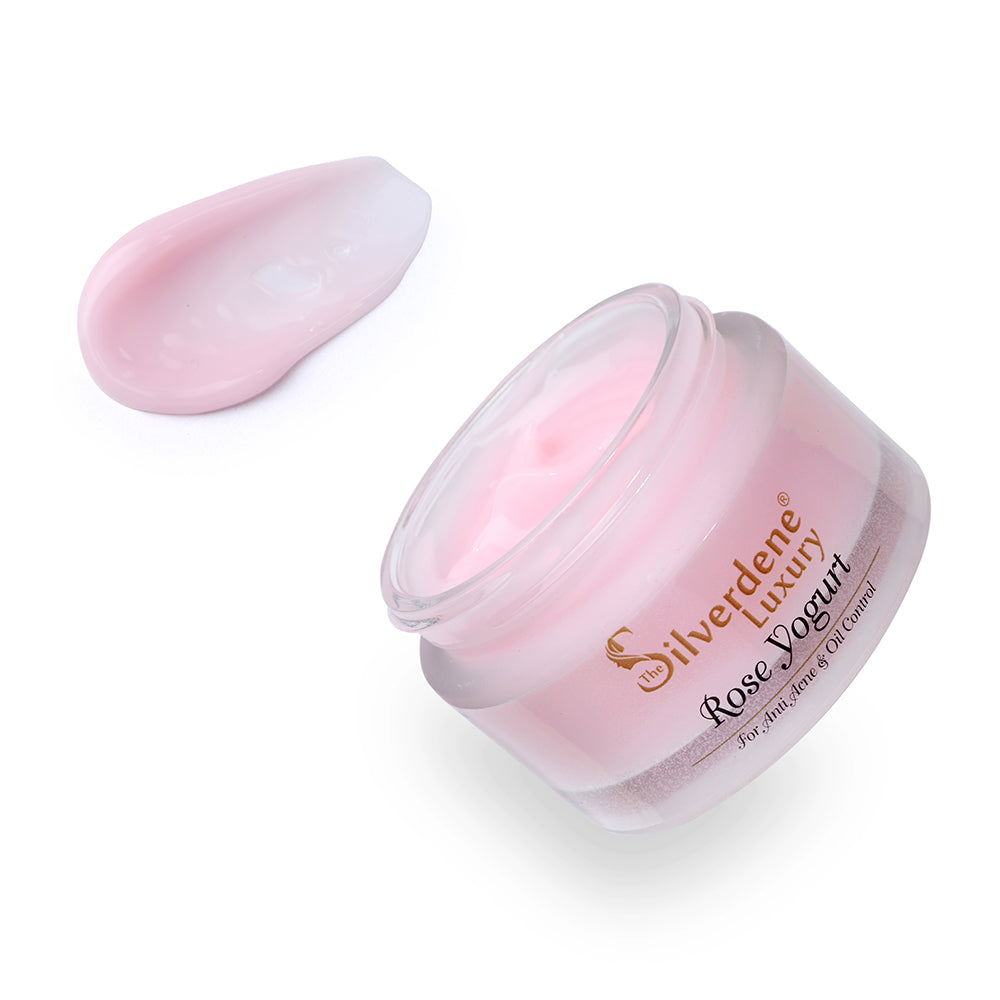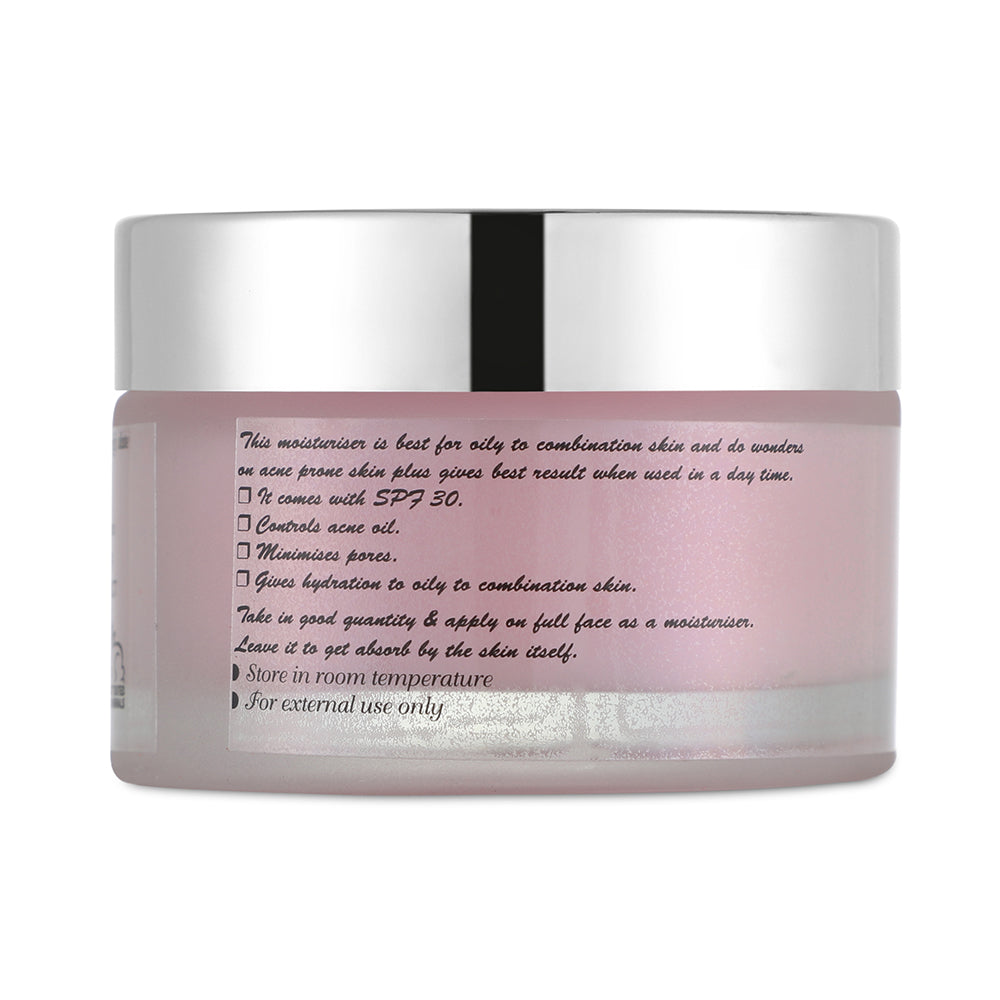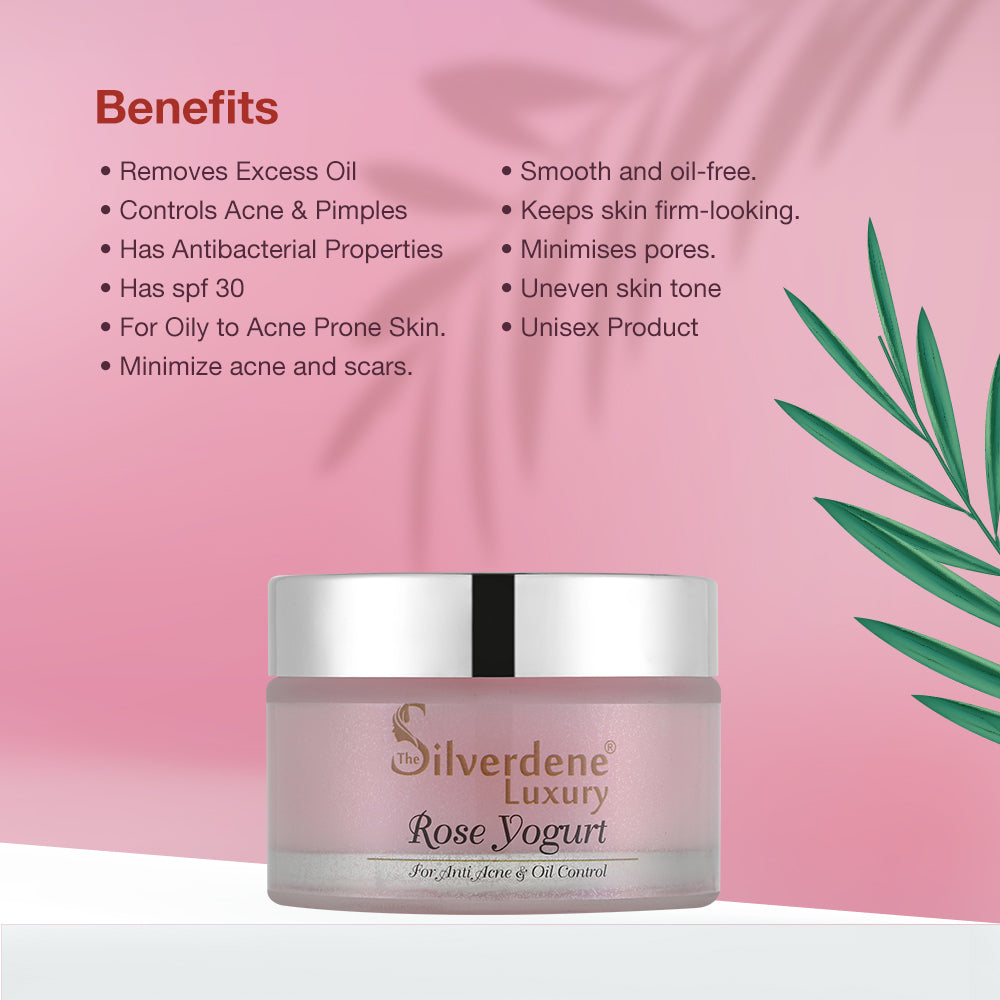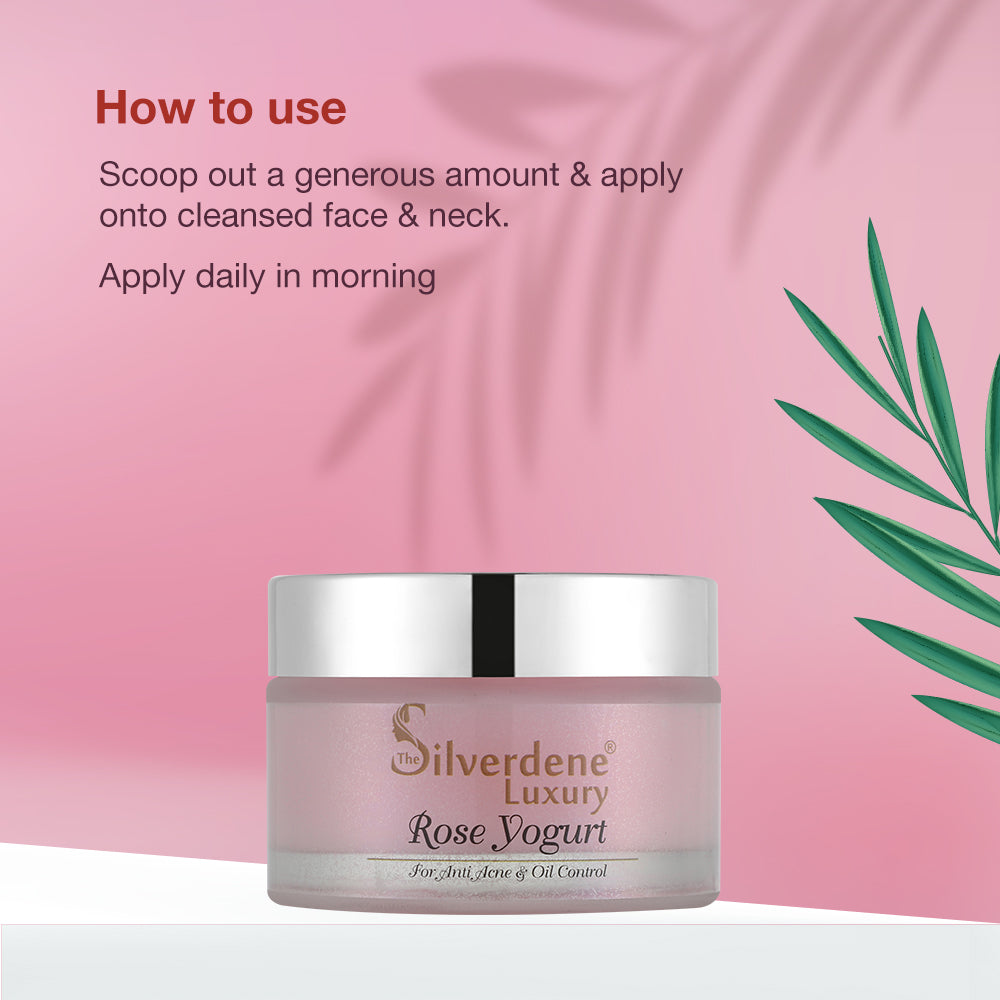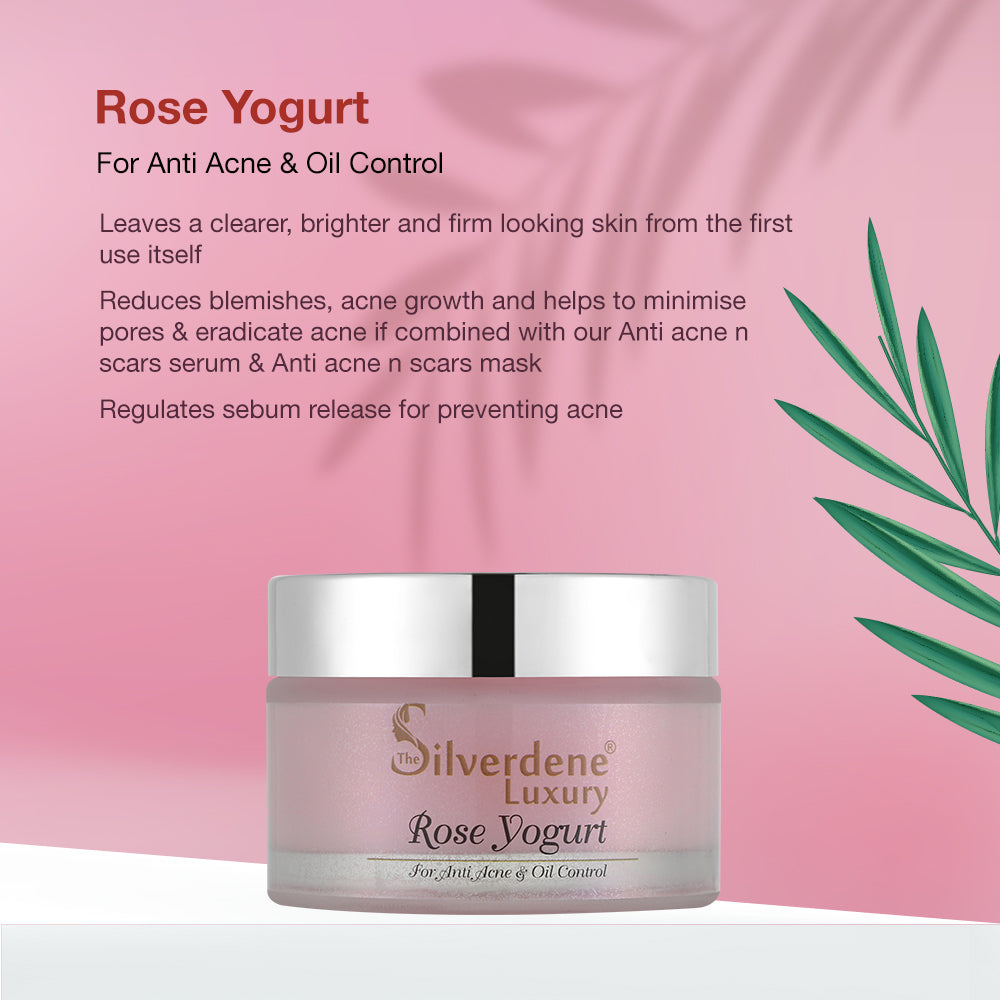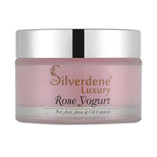 Rose Yogurt
Save Rs. 115.00 (10%) off
inclusive of all taxes
Tax included.
Shipping
calculated at checkout.
100% Genuine products
Paraben Free
Sulphate Free
Good Quality
Description
Things to Know
Ingredients
Benefits
FAQs
About Product
Description
Stay oil-free skin.
A perfect blend of roses for oil-free skin. Its smooth, lightweight and makes your face feel like butter
Is this for me?
Suitable for Oily to combination skin type
Highly recommended product for people with active acne and scars
Form & Texture?
Rich, refreshing gel-like texture
How It Feels?
Soothing, calming & luxurious with natural & refreshing rose fragrance.
Things to Know
It acts as an antioxidant and helps prevent UVB-induced skin damage and skin cancer. It's a natural anti-inflammatory that can help heal wounds, such as acne scars.
It has wild rose berries, olive oil, rose extract, hydrophobically modified corn starch with reduced sebocyte differentiation. Slowing the rate of sebum secretion and reducing pore size- limits shininess and imperfections of the skin.
Ingredients
This cream has been formulated with natural, high-quality yogurt and rose to give your facial skin the best nourishment for acne control, oil control, and cell rejuvenation in the deep tissues. The all-natural formula does not contain sulfates or parabens.
Natural ingredients of Rose Yogurt Face Cream
Silverdale Luxury has successfully bridged the gap created by the absence of natural skin care products in your beauty regime. This formula is ideal for all kinds of skin as it contains the greatness of natural yogurt and rose. Here is a list of ingredients your facial skin needs for breathtaking results.
Natural yogurt
Rose extract
Olive oil
Rose berries
Modified corn starch for hydrophobic interaction with natural sebum oil
All these ingredients are compatible with your skin cells and will not cause adverse effects. Rest assured that your skin will get the best protection from ultraviolet rays and pollution.
Benefits
Benefits of rose yogurt cream
Help to control & prevent acne
Helps in minimising pores
Provide hydration to inner skin cells
Prevents sun damage
Soothes & oil-free skin
Antioxidant effect
Yogurt contains a plethora of natural antioxidants. It also contains the necessary vitamins for our facial tissues to rejuvenate and enhance the process of cell regeneration. The antioxidants will fight against the free radicals that cause aging symptoms. They will also ensure that your skin cells do not age and die faster. In fact, the ingredients of yogurt will replace old and damaged cells and make you look younger.
Protection from Ultraviolet rays (UV-B)
Our body needs ultraviolet rays (UV-A) to synthesize vitamins through skin cells. Ultraviolet rays (UV-B) of a certain range cause harm to our facial cells. As the facial cells are more sensitive, they get easily damaged due to prolonged exposure. This is where Silver Dene Luxury's Rose Yogurt Face Cream fits right into the picture. It protects the skin cells from harmful radiation throughout the day. Your skin tissues will also retain moisture and will remain hydrated.
Acne control
One of the prime benefits of applying our yogurt for acne formula is acne control. The size of facial skin pores will be optimized, resulting in the proper flow of sebum oil. It also becomes easier to clean the pores and avoid bacterial growth.
You can also use our Kesar face wash or Tomato face wash to cleanse your skin deeply and control oil production. After cleaning your face, use this light cream to create a protective layer to avoid bacterial formation in the pores.
Oil-control
This formulation for yogurt for acne scars also works miraculously to control the sebum oil formation in the facial skin cells. It is ideal for oily skin and will naturally control excess oil production.
The hydrophobic corn starch in the formula will reduce the sebocyte differentiation effect and minimize pore size. Hence, acne formation will be under control. You can also use our acne scar removal serum before applying this cream and enjoy better results.
Plump facial skin from our soothing Yogurt Rose cream
By using this cream regularly, you will get plumper and youthful facial skin. Find exclusive dermatology skin care products in our portal at the best prices and add them to your daily beauty routine to get remarkable results. You can buy another range of products and have a similar result.
Acne scar removal serum 
Dermatology skin care products
FAQs
1. Can I use Silver Dene Luxury's O3 face mask with this cream?
Ans: Yes. Make sure you use the mask after cleaning your face and apply the cream later.
2. Will using skin regeneration cream make the process faster?
Ans: The use of skin rejuvenation cream at night will surely deliver results faster. Use the Yogurt Rose cream during the daytime and the skin rejuvenation formula at night before sleep.
3. How does this yogurt creme feel?
Ans: It feels much lighter than the conventional cosmetic creams. It has a natural sun-protection formula, and you can wear it throughout the day.
4. Can I apply yogurt face cream daily?
Ans: Not needed! You can apply the cream once or twice a week.
About Product
Top Quality Rose Yogurt Face Cream For Oil Control and Acne Problem
The increasing pollution and the effect of damaging ultraviolet rays cause immense harm to your facial skin. Prolonged exposure to such external factors can deplete your facial youth and result in the appearance of aging symptoms early. To avoid such complications, use Silverdene Luxury's best Rose Yogurt Face Cream as a part of your beauty regime and get exceptional results.